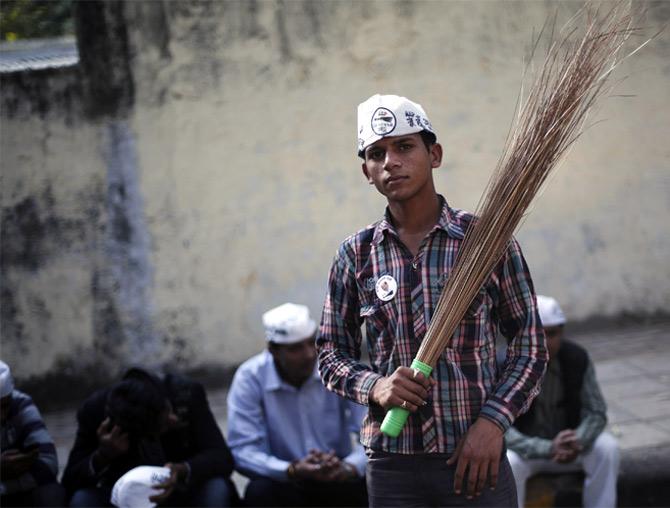 It's the question on many minds. On May 16th will the
Aam Admi Party (AAP)
do a Delhi? How many seats will it get? Zero? 10? 20? 30? 60? In the Delhi elections, almost all opinion polls and exit polls put the AAP at three to eight seats in the 70 member assembly. One exit poll put their number of seats at 32 but this was quickly dismissed by the television studio based political commentators and pollsters as an "error".
The "error" proved to be the best prediction in the Delhi assembly elections.
In the 12 lists the A
AP has published so far, they declared 385 candidates. That's a lot of seats for a party which is less than two years old. Masheshwer Peri refers to this strategy to something this mother used to say, "A dog pissing all over the ground doesn't water any plant." He thinks it's wrong and AAP is spreading itself too thin:
I honestly think that if AAP contested only 50; focussed on the right candidates and contested against captains of corruption, they would have won 25 seats. Now that they are contesting 250+, they will win no more than 12. That is a 5% strike rate against a possible 50% because Focus, positioning and control are lost in the forest.
AAP, like the dog, is pissing all over and not letting it count. This just proves that the wisdom of mothers is so much better than the smart strategists?
That's an interesting point. Should AAP have focussed on just 50 seats?
The downside of contesting over 385 seats are:
The strain it will put on party organisation. If AAP is to preserve its core, it has to be careful in managing growth. Choosing 385 candidates, manifestos, strategies, rallies... It can take its toll, especially for a party which is less than two years old.
Money. 70 Lakhs (7 Million) Rupees per candidate is Rs 280 Crores for 385 candidates. How is AAP going to raise that kind of money in less than 40 days from now?
Perception. As Peri pointed out, even if AAP wins 25 seats out of 385, it would be perceived as a poor showing or "strike rate" as he puts it.
The upside. Is there one? Here are the advantages I see:
I have come across family members, politically not active and tends to stay away from political discussions, tell me that they are sad there is no AAP candidate in their constituency. They would have pushed the AAP broom regardless of the candidate. These places are Congress strongholds and they will not vote for the Left or the BJP. They will most likely vote NOTA. Why lose them?
Build a network around the nation. An election gives the AAP an opportunity to expand at a rapid pace. Most of the 385 constituencies, with roughly 10 assembly segments each and 1000 polling booths, that roughly 38,500 polling booths with AAP presence. Not bad for a party which wasn't around until during the last Olympics.
But the most important point is:
The Future. After this election there will be local body and assembly elections. This general elections will provide good experience in contesting. AAP will be most effective in panchayat and municipal elections, this will provide good grassroots network for future assembly and general elections.
Now back to the main question, how many seats will AAP win? I will wait till the 16th of May. I am hoping for an "error". Every vote matters and you can be sure, from Chandigarh to Chalakudy and Bangalore to Bastar, every vote for AAP will be noticed. Every vote for AAP is a protest against the current political system. Even if AAP wins one seat, I am happy. It means an entry into they system. It means at-least one voice in parliament and one member in one committee. It's a start.
Full disclosure: I am an ordinary member of the Aam Admi Party. I hold no positions and views expressed are my own and are not those of the AAP.